Discounted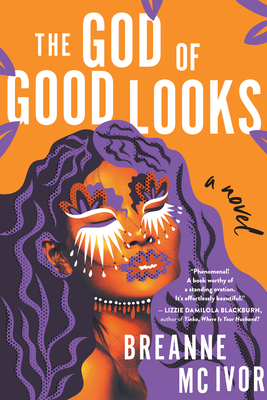 The God of Good Looks: A Novel
Previous price:

$30.00
Current price:

$24.00
Publication Date:
May 16th, 2023
Publisher:
William Morrow
Usually Ships in 1 to 5 Days
Description
"Riveting and transportive—a summer read with bite."—NPR
Most Anticipated by Oprah Daily, Good Housekeeping, and Zibby Mag!
A modern-day Bridget Jones's Diary, this entertaining, warm, and humorous debut novel from award-winning writer Breanne Mc Ivor follows a young Trinidadian woman finding her voice and a new kind of happy ending.
Bianca Bridge has always dreamt of becoming a writer. But Trinidadian society can be unforgiving, and having an affair with a married government official is a sure-fire way to ruin your prospects. So when Obadiah Cortland, a notoriously tyrannical entrepreneur in the island's beauty scene, offers her a job, Bianca accepts, realizing that working on his magazine is the closest to her dreams she'll get.
 As Bianca begins to embrace her power and creative voice, she starts to suspect Obadiah is not the elite tyrant he seems. She's right. Born in one of the poorest parts of Trinidad, Obadiah has clawed partway up society's ladder and built his company around his meticulously crafted persona. Now, he's not about to let anyone, especially Bianca, see past his façade.
 When Bianca's ex-lover threatens everything she's rebuilt, jeopardizing all she's come to love about her new life, she's surprised to find support from the most unlikely ally and, finally, draws the strength to fight back like her mother taught her.
 Sharp-witted and fiercely fun, The God of Good Looks alternates between Bianca's diary entries and Obadiah's first-person narrative to portray modern Trinidad's rigid class barriers and the fraught impact of beauty commodification in a patriarchal society. Boisterous, moving, and full of meaty, universally relatable questions, Mc Ivor's sparkling debut is an open-hearted, awakening tale about prejudice and pride, the masks we wear, and what we can become if we dare to take them off.
Praise for The God of Good Looks: A Novel
"The God of Good Looks represents a vibrant, nuanced, and entertaining view of Caribbean culture, a perspective that transcends both trauma and pure escapism. At the sweet spot between popular entertainment and literature, it's riveting and transportive—a summer read with bite." — NPR
"Breanne McIvor is a talented Trinidadian author and regional literary prize-winner making her international debut." — Oprah.com
"[E]ntertaining...Under the glossy surface of this story about two skittish, driven people finding each other in complicated circumstances, this novel has bigger ambitions. Mc Ivor uses the beauty industry to explore the rifts created by poverty, sexism, and class in modern-day Trinidad, revealing how ingrained misogyny can be in a patriarchal society and how hard it can be to overcome." — Kirkus Reviews
"McIvor shines in this pitch-perfect narrative of power imbalances…. McIvor combines tight plotting and strong character development….This makes for a winning story of comeuppance." — Publishers Weekly
"Mc Ivor's first novel is an entertaining story with vivid depictions of the history, culture, and current social challenges of Trinidad and Tobago…. For readers who enjoy allusions to Jane Austen's Pride and Prejudice, blended with Lauren Weisberger's The Devil Wears Prada." — Library Journal
"Part ribald farce, part feminist tract, part love letter to an island, The God of Good Looks takes a look at Caribbean island life and culture rarely seen in books, that of its bristling, competitive carnival culture and beauty world. McIvor writes with wit and confidence of a world where female beauty is celebrated and monetized. Her heroine, an outsider tarnished by scandal, navigates both with skill and satire. Every page we wince and smirk. A self-aware, modern, female-centered novel out of Trinidad which breaks new ground." — Monique Roffey, author of Costa Book of the Year, The Mermaid of Black Conch
"Phenomenal! A book worthy of a standing ovation. I will never forget how this novel made me feel. It's effortlessly beautiful." — Lizzie Damilola Blackburn, author of Yinka, Where is your Huzband?
"Beautiful inside and out, The God of Good Looks is big-hearted, life-affirming, and salty-sweet. A glittering will-they, won't they Bridget Jones re-boot, it transported me to the Caribbean. LOVED IT." — Nikki May, author of Wahala
"Bursting with vivid imagery and a striking voice, The God of Good Looks boldly tackles complex topics and characters with remarkable nuance and grace. Immersive and impossible to put down."  — Shirlene Obuobi, author of On Rotation
"A dazzling delight of a debut. The God of Good Looks is a captivating portrait of contemporary Trinidadian culture, a canny exploration of makeup's power as artifice and art, and a tender celebration of unexpected connections and the human need to love and be loved. I gasped, I laughed, I cried—I didn't want it to end!" — Coco Mellors, author of Cleopatra and Frankenstein
"Get ready for a gorgeous literary snapshot of what life is like in twenty-first-century Trinidad without any of the usual tropes. The God of Good Looks paints a vibrant portrait of the contemporary Caribbean as you've never read it before. It's full of characters whose struggles you feel to your bones—and will be rooting for all the way through. Bianca might just be one of my all-time favorite heroines. Mc Ivor's writing is fresh, smart, and packed with razor-sharp social commentary—a perfect blend of page-turning and thought-provoking. I can't recommend this debut enough."
— Caroline Mackenzie, author of One Year of Ugly