Discounted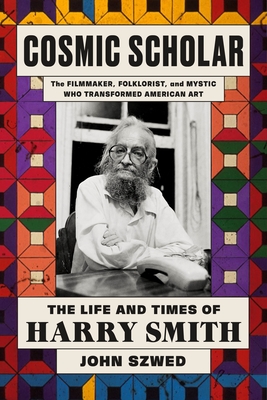 Cosmic Scholar: The Life and Times of Harry Smith
Previous price:

$35.00
Current price:

$28.00
Publication Date:
August 22nd, 2023
Publisher:
Farrar, Straus and Giroux
Usually Ships in 1 to 5 Days
Description
"The first comprehensive biography of this hipster magus . . . [John Szwed] allows different sides of Smith's personality to catch blades of sun. He brings the right mixture of reverence and comic incredulity to his task." —Dwight Garner, The New York Times

Grammy Award–winning music scholar and celebrated biographer John Szwed presents the first biography of Harry Smith, the brilliant eccentric who transformed twentieth century art and culture.
He was an anthropologist, filmmaker, painter, folklorist, mystic, and walking encyclopedia. He taught Patti Smith and Robert Mapplethorpe about the occult, swapped drugs with Timothy Leary, had a front-row seat to a young Thelonious Monk, lived with (and tortured) Allen Ginsberg, was admired by Susan Sontag, and was one of the first artists funded by Guggenheim Foundation. He was always broke, generally intoxicated, compulsively irascible, and unimpeachably authentic. Harry Smith was, in the words of Robert Frank, "the only person I met in my life that transcended everything."
In Cosmic Scholar, the Grammy Award-winning music scholar and celebrated biographer John Szwed patches together, for the first time, the life of one of the twentieth century's most overlooked cultural figures. From his time recording the customs of Native American tribes in the Pacific Northwest and Florida to his life in Greenwich Village in its heyday, Smith was consumed by an unceasing desire to create a unified theory of culture. He was an insatiable creator and collector, responsible for the influential Anthology of American Folk Music and several pioneering experimental films, but was also an insufferable and destructive eccentric who was unable to survive in regular society, or keep himself healthy or sober.
Exhaustively researched, energetically told, and complete with a trove of images, Cosmic Scholar is a feat of biographical restoration and the long overdue canonization of an American icon.
Includes black-and-white and color images
Praise for Cosmic Scholar: The Life and Times of Harry Smith
"[Cosmic Scholar] is the first comprehensive biography of this hipster magus . . . It's a knowing and thoughtful book . . . [by] a perspicacious reporter. [Szwed] wrestles this material into a loose but sturdy form . . . He allows different sides of Smith's personality to catch blades of sun. He brings the right mixture of reverence and comic incredulity to his task." —Dwight Garner, The New York Times
"[A] highly enjoyable biography . . . Cosmic Scholar is an impressively full portrait of an erratic subject." —Timothy Farrington, Wall Street Journal
"Szwed has ably shaped [Smith's] chaos . . . a mammoth recording of Smith's movements. Szwed is sharp enough to not play judge and takes no sides in the Compassionate Harry versus Nasty Harry debate. He knows that Smith's social interactions, the spitting and kicking, are crucial to his legacy, in part because Smith destroyed so much of what he produced." —Sasha Frere-Jones, Bookforum
"This biography argues persuasively that Smith's contributions to art, anthropology, avant-garde film, and, most of all, popular music were profound. Szwed, also the author of an excellent biography of Billie Holiday, shows how the legacy that Smith left behind—including the six-LP "Anthology of American Folk Music," from 1952—influenced the sensibilities of Bob Dylan, Jerry Garcia, and countless others." —The New Yorker (Briefly Noted)
"Illuminating, definitive . . . Szwed is a scholar, but he is also a storyteller, and he makes you feel like you are taking in Thelonious Monk at the Five Spot and running into Leonard Cohen, Patti Smith, and Robert Mapplethorpe at the Chelsea." —David Yaffe, Air Mail
"Szwed confronted both a mammoth and chaotic trove of materials and an even larger void of tragically lost artworks and collections as he assiduously and passionately constructed this engrossing, revelatory, often beyond-belief portrait of a reckless, maddening, cosmic, and transformational genius." —Booklist (starred review)
"Szwed is the ideal chronicler for a person worth knowing but so hard to pin down . . . As lively a writer as he is scrupulous, [he] has produced an excellent and engaging biography, the story of an elusive but important and utterly fascinating figure." —Library Journal (starred review)
"In this vividly detailed biography, music scholar Szwed brilliantly captures the life and legacy of the enigmatic filmmaker, folklorist, painter, producer, anthropologist, archivist, Kabbalist, and alchemist Harry Smith . . . Drawing on extensive research to fill in his subject's emotional states, Szwed sensitively renders [Smith's] extraordinary, bizarre, and ultimately tragic life . . . A masterful ode to a 'strange and singular character' in American arts." —Publishers Weekly (starred review)
"Szwed, piece by obscure piece, masterfully puts [Harry Smith's] puzzle of a life together . . . A revelatory portrait of a unique pop-culture figure." —Kirkus Reviews
"Harry Smith was a mythic figure in plain sight, a twentieth-century counterpart to Athanasius Kircher or John Dee, and he always seemed more legend than fact, even in his lifetime--even in the same room. John Szwed's dedicated and hard-nosed biography gathers all the evidence, weighs it judiciously, and delivers a nuanced portrait of the mass of contradictions that was Harry." —Lucy Sante, author of Nineteen Reservoirs
"Harry Smith was one of those underground geniuses who truly was a genius, a maddening, willful, unkempt scrounger of immense intellect whose greatest achievement inflected modern culture and who achieved much more besides. Smith's mercurial life should have defied any biographer, yet John Szwed, amazingly, has pulled it off, with discrimination as well as sympathy." —Sean Wilentz, author of Bob Dylan in America
"With quirky brilliance fitting the subject, John Szwed shows how Harry Smith was much more than a bohemian caricature. He was an early master of creative curation and a pre-digital influencer: a profound influence on people who influenced people we recognize as profoundly influential." —David Hajdu, author of Love For Sale: Pop Music in America
"Best-known for his labor-intensive experimental films and indispensable Anthology of American Folk Music, Harry Smith was an impoverished polymath, multiculti practically from birth - because he cherished repressed realities - and too spiky to fit even a slot in the counter-culture. Yet Harry Smith influenced the influencers. Now thanks to John Szwed and his crackerjack research, this visionary is no longer a complete enigma." —Cynthia Carr, author of Fire in the Belly: The Life and Times of David Wojnarowicz
"Harry Smith did more than compile the world's most influential mixtape; he was a polymath creator, scholar, anthropologist, film maker and premier-league New York City art scene hustler. John Szwed's an anthropologist, too, but also a mystery writer, drawn to figures like Smith and Sun Ra in part for their spectacular unknowability. This biography again transforms facts into magic-laced storytelling — which is what Smith was all about." —Will Hermes, author of Lou Reed: The King of New York
"A tormented transcontinental seer who lived like a freeloading visitor from another dimension, Harry Smith existed in obscure subcultures but knew every important artist, writer, musician, and filmmaker from the 1930s to the 1980s. John Szwed's book captures the druggie angel/devil hoarder musicologist/filmmaker at work building a new reality, one we'd inhabit today if we could get to it." —A. S. Hamrah, author of The Earth Dies Streaming: Film Writing, 2002-2018