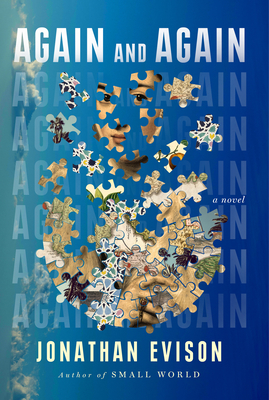 Again and Again: A Novel
Publication Date:
November 7th, 2023
Usually Ships in 1 to 5 Days
Description
From one of America's greatest, most creative novelists comes Again and Again, a poignant and endlessly surprising story about love lost, found, and redeemed

Eugene "Geno" Miles is living out his final days in a nursing home, bored, curmudgeonly, and struggling to connect with his new nursing assistant, Angel, who is understandably skeptical of Geno's insistence on having lived not just one life but many—all the way back to medieval Spain, where, as a petty thief, he first lucked upon true love only to lose it, and spend the next thousand years trying to recapture it.
Who is Geno? A lonely old man clinging to his delusions and rehearsing his fantasies, or a legitimate anomaly, a thousand-year-old man who continues to search for the love he lost so long ago?
As Angel comes to learn the truth about Geno, so, too, does the reader, and as his miraculous story comes to a head, so does the biggest truth of all: that love—timeless, often elusive—is sometimes right in front of us.
Praise for Again and Again: A Novel
One of New York Post's Best New Books Out This Week
Featured in Los Angeles Times' "Books to Read in November"
One of Good Housekeeping's Best Books of Fall 2023
One of The Seattle Times' Must-Read Fall Books
One of Literary Hub's Most Anticipated Books of 2023
"A yearning meditation on the nature of love, fate and how our past(s) might determine our future." —The New York Times
"The joy of watching Evison braid together multiple stories from Eugene's lives (and the 105 years of this existence) is akin to witnessing a master carpet weaver work out a fantastically intricate rug…In revealing the tricks of his trade, its author exposes the tender heart of his craft." —The Los Angeles Times
"Imaginative and meticulous puzzle of a new novel." —The Seattle Times
"A heartfelt message about loyalty in a wildly inventive package."—Real Simple
"Jonathan Evison's writing is as smooth as a well-aged single barrel whiskey and goes down just as satisfying."—Spokesman-Review (Spokane)
"Evison takes the reader across centuries, chasing long-lost love through various chapters of history while learning how to value the present." —Inlander
"A touching fantastical tale…Evison evokes genuine emotions…This touches the heart."—Publishers Weekly
"Tender and delightful...Evison imbues his big-hearted narrative with sumptuous mystery and intrigue tracing Eugene's quest for love amid undiminished hope." —Booklist
"Jonathan Evison's latest is one of those rare, captivating books that you can't help but be drawn into. This outstanding tale of tales had me turning pages long after dark and kept me delightfully off-kilter all the way to the end. A gorgeous story about love, loss, and eternal hope."—Shelby Van Pelt, New York Times bestselling author of Remarkably Bright Creatures
"Evison's dazzling new novel does what the best literature does, pulls us out of our lives and plunges us into another—in this case many others—and it does it in a way that is truly, mindbendingly, genius. A stunning Scherazade-told tale about the only subject that matters—love—Again and Again is about the stories we tell ourselves to create ourselves, the stories we believe, and the way a human heart can shatter and still find a kind of wholeness. To say I loved this book is an understatement."—Caroline Leavitt, New York Times bestselling author of Pictures of You and With or Without You
"A beguiling and big-hearted literary page-turner, Again and Again brims with narrative brio while also partaking in a poignant, timeless wisdom. Eugene's voice enchanted me from the first page and wove its way into the fibers of my being, even and especially when I felt him start to tug at the rug under my feet."—Antoine Wilson, author of Mouth to Mouth and Panorama City
"Who is Eugene Miles?  Visigoth thief, prisoner, centenarian, slave, janitor, decorated Marine—even, for a life, Oscar Wilde's cat—or just a lonely old yarnspinner, a liar?  Jonathan Evison's shapeshifting narrator may be stuck in a nowhere nursing home, yet he transports the reader to Seville under the Moors, Victorian London and every era of 20th century L.A.  Spanning a thousand years and one timeless love, Again and Again is a fantastical tale of longing and regret, and maybe also a sneaky fable of both how fallible and how hopeful we can be."—Stewart O'Nan, author of Henry, Himself