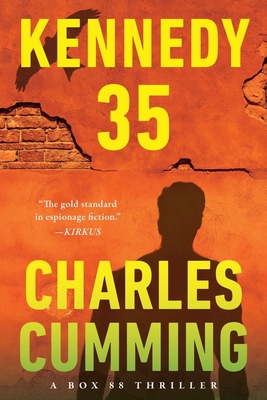 Kennedy 35 (Box 88 #3)
Publication Date:
November 7th, 2023
Publisher:
Mysterious Press
Usually Ships in 1 to 5 Days
Description
A Financial Times Best Thriller of 2023
Veteran agent Lachlan Kite—"a spy for the 21st century" (Daily Mail)—reckons with the fallout from a mission in Senegal carried out early in his career.
1995: In the wake of the Rwandan genocide, 24-year-old spy Lachlan Kite and his girlfriend, Martha Raine, are sent to Senegal on the trail of a hunted war criminal. The mission threatens to spiral out of control, forcing Kite to make choices which will have devastating consequences not only for his career at top-secret intelligence agency BOX 88, but also for his relationship with Martha.
2023: Eric Appiah, an old friend from Kite's days at school and an off-the-record BOX 88 asset, makes contact with explosive information about what happened all those years ago in West Africa. When tragedy strikes, Kite must use all the resources at his disposal to protect Martha from a criminal network with links to international terror.
Charles Cumming once again straddles two timelines to create a high-tension thriller in this latest Lachlan Kite novel.
Praise for Kennedy 35 (Box 88 #3)
Steeped in recent history, Cumming's third Box 88 novel depicts the international complexities of modern espionage as well as the inseparable intertwining of the political and the personal. Like le Carré and Lawton before him, Cumming is building a modern history through an espionage lens, book by methodical book. An intricate espionage thriller that's both timely and convincing.
— Kirkus
Enthralling, haunting … Cumming is often compared to John le Carré, but he is his own man—taking the spy thriller to a new level of storytelling, one that illuminates the darkest corners of our modern world.
— Financial Times
Cumming masterfully orchestrates suspense as the characters' pasts come to bear on their present…. This espionage tale grips from the get-go.
— Publishers Weekly
A compelling exploration of the consequences of realpolitik and the intermingling of the personal with the political.
— The Guardian
Cumming marshals his twin time frames expertly and illuminates an awful chapter in recent history. A first-rate spy thriller.
— The Mail on Sunday