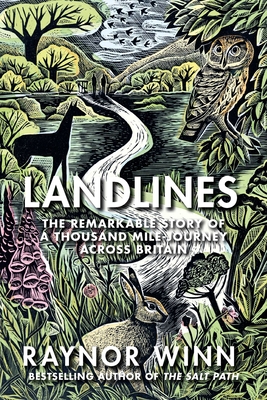 Landlines: The Remarkable Story of a Thousand-Mile Journey Across Britain
Publication Date:
September 5th, 2023
Usually Ships in 1 to 5 Days
Description
The powerful story of a 1,000-mile healing walk—from the lochs of Scotland to England's southwest coast—in a remarkable evocation of modern-day Britain.
Raynor Winn knows that her husband Moth's health is declining, getting worse by the day. She knows of only one cure. It worked once before. But will he—can he?—set out with her on another healing walk?
The Cape Wrath Trail is hundreds of miles of grueling terrain through Scotland's remotest mountains and lochs. But the lure of the wilderness and the beguiling beauty of the awaiting glens draw them northwards. Being one with nature saved them in their darkest hour years earlier—and their hope is that this experience can work its magic again.
So Raynor and Moth embark on an incredible thousand-mile journey: from Scotland to the familiar shores of the South West Coast Path, from Northumberland to the Yorkshire moors, and from Wales to home again. As they map with each step the landscape of their island nation, they find themselves facing existential questions—about themselves and about their country—during this epic, inspiring odyssey.
Praise for Landlines: The Remarkable Story of a Thousand-Mile Journey Across Britain
"Along with her terminally ill husband, Winn undertook a 1,000-mile walk through Britain, a demanding yet ultimately fulfilling journey, lyrically recounted by a captivating writer."
— PEOPLE Magazine, Best Books of Fall 2023
"Landlines is both an inspiring testament to fortitude and a plea to save a burning planet. Winn fills her work with rich metaphors drawn from the natural world."
— The Washington Post
"Inspiring. The narrative is so vividly drawn and emotionally resonant that most readers will come to feel like one of the family, sharing their pain and uncertainty and eventual triumph. This is an unforgettable story about fragility girded by resolve and the courage to keep going, even if it's just that one more step, and to hold fast to hope. Winn exudes the soul of a poet and the grit of a survivor."
— Kirkus Reviews (starred review)
"Hope and determination in the face of all odds drive this engrossing book. Readers who have undertaken caretaking responsibilities for loved ones will find much to relate to in this honest depiction."
— Library Journal
"This is a story of grit and persistence, but most importantly, a tale of putting oneself 'in the way of hope.' Readers familiar with the couple's previous adventures especially will love this third installment."
— Booklist
"A captivating reflection on nature and the lines that divide and shape countries and people." 
— Sainsbury's Magazine
"As well as a portrait of a telepathic marriage of true minds, and a snapshot of a fretful island, this is a soaring lament and a tub-thumping tirade?for all that is being lost, for all that may yet be saved."  
— The Telegraph
"Fans of The Salt Path will love this moving continuation of Raynor and her husband Moth's journey. Alongside beautiful nature writing, there are thought-provoking observations on our countryside and the threat it is under." 
— Good Housekeeping
"Raynor Winn has done it again. She's achieved a miracle, defying all odds and walking 1,000 miles with her beloved husband Moth. But she has also given her vast army of fans?both armchair hikers and the real thing?another wondrous book, full of compassion, humour, insights, closeness to nature and true, bloody-minded grit. An inspiration." 
— Isabella Tree, author of Wilding
"If you followed Raynor and husband Moth on The Salt Path, you will thrill to join them on this epic walk, from Scotland's wild and beautiful Cape Wrath Trail. Miracles might just happen when you put your best foot forward." 
— Saga Magazine