Preorder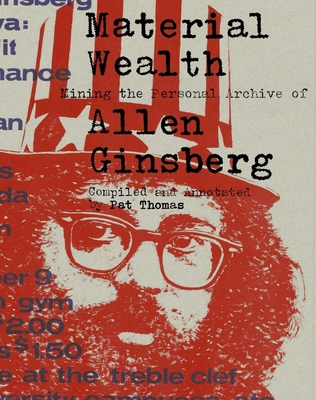 Material Wealth: Mining the Personal Archive of Allen Ginsberg
Publication Date:
November 21st, 2023
Publisher:
powerHouse Books
Description
A prolific poet, raconteur, activist, and thinker, Allen Ginsberg was also a prolific collector, meticulously saving letters, postcards, draft notes and manuscripts, photographs and snapshots, appearance bills and rally broadsheets, not only featuring him personally, but also his fellow poets, singers, lovers, writers, journey companions, friends, and agitators. Gathered here publicly for the first time is his personal archive of events and experiences documenting his life as a young man, breakaway poet, expansive spirit, curious intellectual traveler, and relentless enthusiast of the provocative and the profane.
There are hundreds of thousands of items carefully stored and archived at Stanford University's Allen Ginsberg collection. Counterculture historian Pat Thomas, with the full cooperation of the Allen Ginsberg Estate's Peter Hale, has compiled and annotated a remarkable volume of material, unearthing in the process one astounding find after another. The result is a tome of previously unpublished historical paperwork and vintage graphics and photographs and ephemera that promises an unprecedented look inside one of the most prolific poets and agitators of cultural mores of the 20th century.
A poster for Patti Smith's first-ever poetry reading. Correspondence from Allen's stint as literary agent for William S. Burroughs and Herbert Huncke. Yippie manifestos from Jerry Rubin, Abbie Hoffman, and John Sinclair of the MC5. A ticket for a 1974 concert by Bob Dylan & The Band (with Yoko Ono's phone number scribbled on the back). Posters documenting early Beat Generation readings in 1950s San Francisco as well as later ones capturing the 1960s Haight-Ashbury Hippie era.
Allen's own remarkable journey is here, too: agreements for BBC Radio appearances, schedules of lecture tours, notes for his iconic Kaddish poem. A parody of Howl as 'Towel' by Terry Southern. Obsessive letters from fans he never met.
Though this project is so much more than a book of Allen's photography, the featured images can't go unmentioned: Allen's lens finds not only Kerouac, Corso, Burroughs, and other Beats, but also Lou Reed, Van Morrison, Philip Glass, Norman Mailer, Marianne Faithful, Anne Waldman, Iggy Pop, Don Cherry, Robert Frank, and Patti Smith. You'll find he often scribbled his affection for the subject right on the photo itself.
Packed with ephemera you've never seen, Material Wealth is a smorgasbord of things that most of us would have tossed away decades ago: notes to oneself, accounting statements, letters of intent, fan and media crushes, criticisms and critiques, posters of events now considered historical and cultural canon, political manifestos, et al.
These are just a few of the most intriguing items folded between the pages of the one Ginsberg book that has never been—and needed to be done: a visual annotated compendium that reveals one of the unparalleled minds of his generation.