Discounted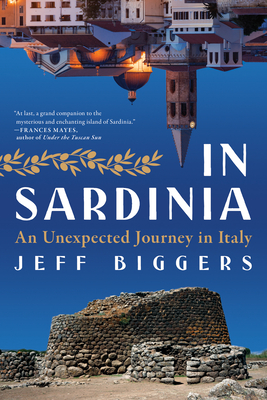 In Sardinia: An Unexpected Journey in Italy
Previous price:

$27.99
Current price:

$22.39
Publication Date:
May 23rd, 2023
Publisher:
Melville House
Usually Ships in 1 to 5 Days
Description
"Mr. Biggers is an enthusiastic and erudite guide. Seeking out the past in local lore and in Sardinia's long and overlooked literary tradition, he returns the island to the center of our imaginative map of the Mediterranean." -- The Wall Street Journal
"At last, a grand companion to the mysterious and enchanting island of Sardinia. Written with verve and love, In Sardinia is the book I'll be taking on future trips." -Frances Mayes, New York Times bestselling author of Under the Tuscan Sun
Award-winning historian Jeff Biggers opens a new window into the hidden treasures of Sardinia in a groundbreaking travel narrative that crisscrosses one of the most enigmatic places in Italy
After three decades of living and traveling in Italy, Jeff Biggers finally crossed over to Sardinia, uncovering a treasury of stories amid major archaeological discoveries rewriting the history of the Mediterranean.
Based in the bewitching port of Alghero, guided through the island's rich and largely untranslated literature, he embarked on a rare journey around the island to experience its famed cuisine, wine, traditional rituals and thriving cultural movements.  
"Sardinia is something else. Enchanting spaces and distances to travel," D. H. Lawrence wrote in 1921.  On the 100th anniversary of Lawrence's visit, Biggers opens a new window into the history of the island, chronicling how new archaeological findings have placed the island as one of the cradles of the Bronze Age. From the Neolithic array of Stonehenge-like dolmens and menhir stone formations to the thousands of Bronze Age "nuraghe" towers and burial tombs, the vastness of the uninterrupted cycles of civilizations and their architectural marvels have turned Sardinia into the Mediterranean's "open museum." 
Beyond its fabled beaches, reconsidering how its unique history and ways have shaped Italy and Europe today, Biggers explores how travelers must first understand Sardinia and its ancient and modern history to truly understand the rest of Italy.
In the tradition of Mark Kurlansky's Basque History of the World, Peter Hessler's Oracle Bones: A Journey Through in China, and Frances Mayes' and Tim Parks' narratives on Italy, In Sardinia is a major new addition to travel writing and literature in Italy.
Praise for In Sardinia: An Unexpected Journey in Italy
"A fascinating book that reads like a novel."-- Rick Steves, "Travel with Rick Steves" radio
"Mr. Biggers is an enthusiastic and erudite guide. Seeking out the past in local lore and in Sardinia's long and overlooked literary tradition, he returns the island to the center of our imaginative map of the Mediterranean." -- The Wall Street Journal
"A fascinating read about a fascinating island, the book takes us beyond the storied beaches and adds context and texture to Sardinia's already rich cultural history." -- Voce Italiana
"Biggers is also a persuasive champion of modern Sardinian culture...Much more than a travelogue, In Sardinia is compendious and evocative."-- Times Literary Supplement
"Erudite research into the language and culture...A fascinating portrait of Sardinia." --California Review of Books

"A consummate storyteller, Jeff Biggers deftly weaves his modern Sardinian odyssey into the fabric & folklore of this enigmatic island with a light touch that carries the reader along." -- Italia! Magazine
"[A] rich, detailed chronicle...compelling guide and a new appreciation of an overlooked island...Neither holiday postcard nor dry ancient history, this is a fascinating journey around Sardinia." -- Kirkus Reviews
"A successful and well-written blend of history, travel, art, literature, and culture." -- The Washington Independent Review of Books

"In Sardinia is a delightful travelogue that unearths magical stories from beneath island stones." -- Foreword Reviews
"A fine mix of geography and history that offers a vigorous riposte to the various misunderstandings heaped upon Sardinia." --Booklist
"At last, a grand companion to the mysterious and enchanting island of Sardinia. Known to most travelers for its beaches, Sardinia's complex archeological heritage extends back to Neolithic times. Jeff Biggers, the consummate traveler/ scholar, starts in beautiful Alghero and begins exploring the entire island, delving into the rich traditions of music, arts, dialects, crafts, and literature. Along the way, he and his family revel in local lore, festivals, food, and wine. Written with verve and love, In Sardinia is the book I'll be taking on future trips." --Frances Mayes, New York Times bestselling author of Under the Tuscan Sun
"In Sardinia passionately recounts Biggers' discovery of a place long considered out of time and history. With an agile writing style but one that reveals the extensive research behind the text, In Sardinia takes the reader on a discovery of an island-as-a-continent, its rich historical heritage as well as its increasingly vibrant contemporary cultural life." --Maria Bonaria Urban, author of Sardinia on Screen
"A deeply satisfying dive into the Sardinian soul, but at the same time the writing is so spare and essential - almost as if Biggers somehow reflects the silences and spaces of the island as well. Every page taught me something new about Sardinia's literature, legends, landscape, icons and customs. A moving book which traces the contours of the terrain and hears its ancient voices. A magnificent achievement." --Tobias Jones, author of The Po: An Elegy for Italy's Longest River
"...a compelling and poetic account of an exciting cultural renaissance on the island." --Ludovica Amici, Ville e Casali (Town and Country Magazine)
"Biggers' work stands out meritoriously...the author has resurrected the great travel narrative. The second novelty, which also expresses the cultural depth of the author, is that the book avoids the narration of easy exoticisms in the description of the island." --Adriano Bomboi, Sa Natzione
"In Sardinia is an indispensable and necessary international guide. To discover a Sardinia still little known outside the national borders and to reveal its multiform riches and diversity. It is no coincidence that this opens with the Ogliastra artist Maria Lai and closes with the poet of Desulo, Montanaru, just as it is no coincidence that, in this almost intimate text, the many "Sardignias" are represented through a kaleidoscopic variety of languages and cultures, landscapes and knowledge, sounds, tastes and encounters. In Sardinia is an unmissable journey that starts from an inner story to be shared with the vast world. A journey capable of filling that profound void, which makes that stone thrown into the Mediterranean a teeming patch of land yet to be revealed." -- Paolo Fresu, legendary Italian jazz musician and composer