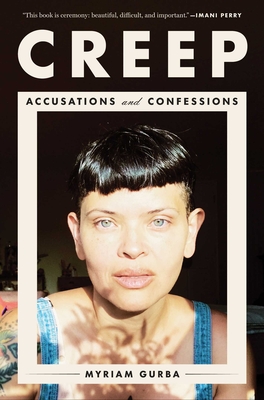 Creep: Accusations and Confessions
Publication Date:
September 5th, 2023
Publisher:
Avid Reader Press / Simon & Schuster
Usually Ships in 1 to 5 Days
Through a historical and literary lens,Creepexposes racist dog whistles you may not be aware of, biases you don't even realize, and shines a light on oppression marginalized people face. It is full of heart, humor, and hard truths.
September 2023 Indie Next List
Description
"Quite simply one of the best books of the decade." —Los Angeles Review of Books * "The mother of intersectional Latinx identity." —Cosmopolitan * "Essential reading, a California classic." —Rachel Kushner, author of The Flamethrowers * "Witty, confident, and effortlessly provocative." —The Philadelphia Inquirer * "The most fearless writer in America." —Luis Alberto Urrea, Pulitzer Prize finalist and author of Good Night, Irene
A ruthless and razor-sharp essay collection that tackles the pervasive, creeping oppression and toxicity that has wormed its way into society—in our books, schools, and homes, as well as the systems that perpetuate them—from the acclaimed author of Mean, and one of our fiercest, foremost explorers of intersectional Latinx identity.
A creep can be a singular figure, a villain who makes things go bump in the night. Yet creep is also what the fog does—it lurks into place to do its dirty work, muffling screams, obscuring the truth, and providing cover for those prowling within it.
Creep is Myriam Gurba's informal sociology of creeps, a deep dive into the dark recesses of the toxic traditions that plague the United States and create the abusers who haunt our books, schools, and homes. Through cultural criticism disguised as personal essay, Gurba studies the ways in which oppression is collectively enacted, sustaining ecosystems that unfairly distribute suffering and premature death to our most vulnerable. Yet identifying individual creeps, creepy social groups, and creepy cultures is only half of this book's project—the other half is examining how we as individuals, communities, and institutions can challenge creeps and rid ourselves of the fog that seeks to blind us.
With her ruthless mind, wry humor, and adventurous style, Gurba implicates everyone from Joan Didion to her former abuser, everything from Mexican stereotypes to the carceral state. Braiding her own history and identity throughout, she argues for a new way of conceptualizing oppression, and she does it with her signature blend of bravado and humility.
Praise for Creep: Accusations and Confessions
"Creep is quite simply one of the best books of the decade. A truly distinctive, authentic, and dynamic literary voice. . . Without a doubt, Creep confirms that Myriam Gurba is one of our great American intellectuals, one who expertly utilizes a rapier wit to slice away the façade of hypocrisy, bigotry, bullying, and crime that marks our contemporary moment. She speaks truth to power with panache and lawyer-like logic, producing eloquent and vital essays that simultaneously provoke and entertain." —Los Angeles Review of Books 
"Gurba writes  the personal and political with invigorating conviction. . . She assembles chains of seemingly unrelated memories and events whose resonances grow with each new link. She marshals myriad sources with ease, and addresses difficult subjects with blunt wit. . . To read Gurba at her best is to feel both the triumph of defiant self-regard as well as the soft contours of the striving it takes to acquire, preserve and restore." —The New York Times
"[Myriam Gurba] is the mother of intersectional Latinx identity." —Cosmopolitan 
"Absorbing. . . [Gurba's] essays can be so darkly funny and artfully constructed and she has a voice that defies how women—especially Latinx women—are expected to write/sound." —Carolina A. Miranda, Los Angeles Times
"Witty, confident, and effortlessly provocative, Gurba writes about the things that piss her off with poison and precision, sometimes daring readers to look for themselves in the tangled complicity flowchart. . . Creep goes to some dark places, but there's something joyous about Gurba's righteous and ravenous worldview." —The Philadelphia Inquirer 
"[Creep] is governed by an indomitable spirit. . . Gurba catches us off guard with her unusual twinning of compassion and lacerating observation. . . While these essays are full of rigorous critical thought, there's an intoxicating, lived quality to Gurba's style of analysis, her willingness to expose the funny and the cruel and the grotesque in a single breath. Gurba doesn't so much dissect her life or California history as she holds an elaborate wake, reframing our understanding of humor as a means of survival. She is an indelible contemporary voice, and we are the better for it." —Alta Online
"Challenging and cathartic, Creep is a collection of power and place, kinship and kindness, violence and atrophy. It may hurt, but this one will heal you." —Ms. 
"Brilliant. . . [Gurba] skins the myth of California as a progressive playground. In its place, she offers a blistering portrait of life in the golden state. . . Despite the degradations and horrors Creep chronicles, it's a hopeful book. A hopefulness shot through with anger, awareness, and unrest. A hope rooted in the steadfast belief other worlds are possible." —The New York Observer 
"Haunting and otherworldly, like reading Goosebumps under a flashlight. . . With an imaginative combination of rigorous archival resources, magical realism, and wit, Gurba gives us no choice but to read on in spite of feeling spooked." —Interview
"Sharp, conversational cultural criticism. . . Gurba goes for the jugular." —Bustle's "Best New Books for Fall"
"Gurba is mighty. Brilliant, Mexican, wry; an ethnographer of our inheritances, she trains our eyes on the ugliness of racism, imperialism, and misogyny. A curate of liberation, Gurba pays homage to the survivors and the victims. This book is ceremony: beautiful, difficult and important." —Imani Perry, National Book Award-winning author of South to America
"Boom! Myriam Gurba's writing is a nuclear explosion." —Silvia Moreno-Garcia, bestselling author of Mexican Gothic